Yayınlar
2021
---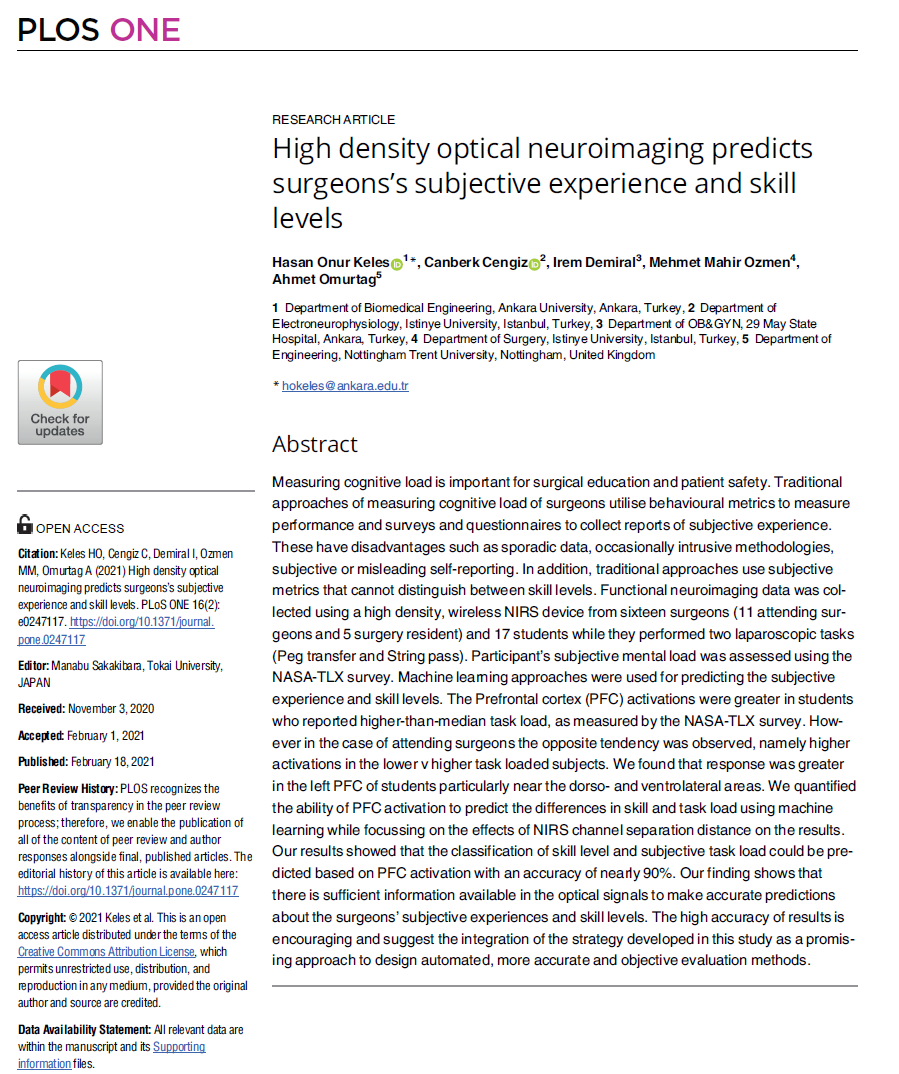 High density optical neuroimaging predicts surgeons's subjective experience and skill levels
H.O. Keles, C. Cengiz, I. Demiral, M.M. Ozmen, A. Omurtag
PloS one, 2021; 16(2), e0247117.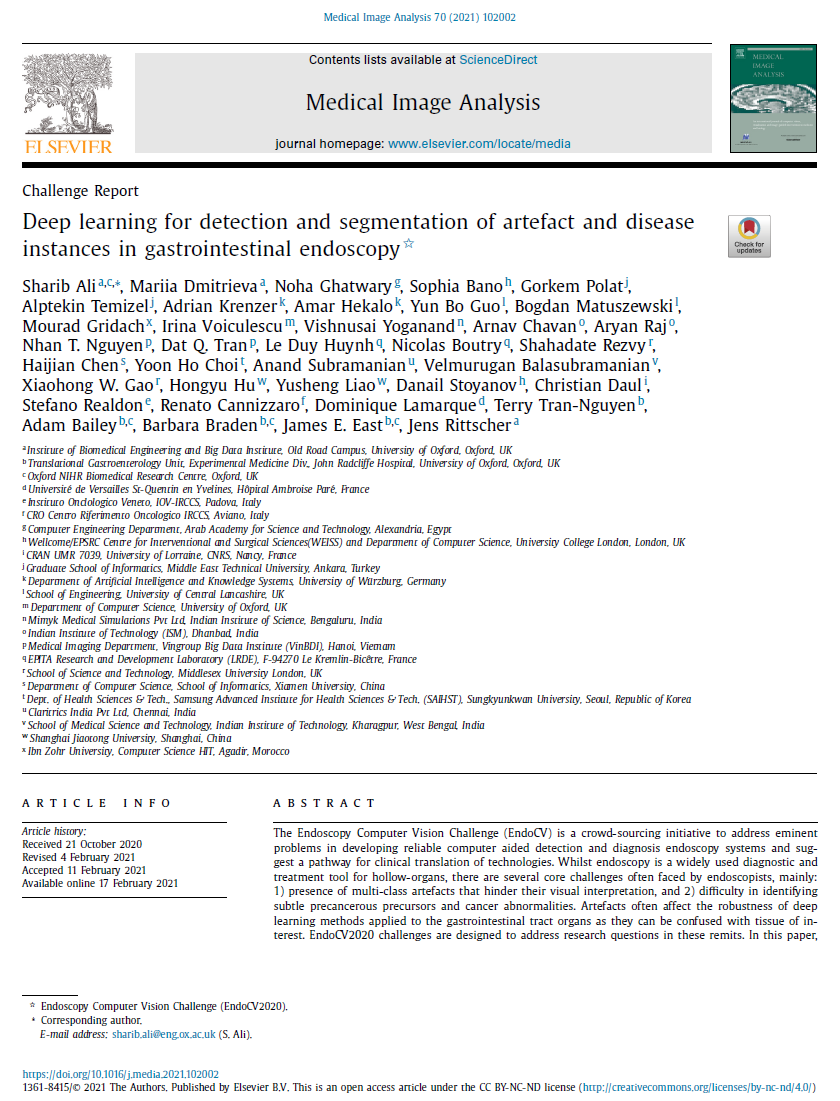 Deep learning for detection and segmentation of artefact and disease instances in gastrointestinal endoscopy
S. Ali, M. Dmitrieva, N. Ghatwary, S. Bano, G. Polat, A. Temizel, et al.
Medical Image Analysis, doi:10.1016/j.media.2021.102002, vol. 70, May 2021.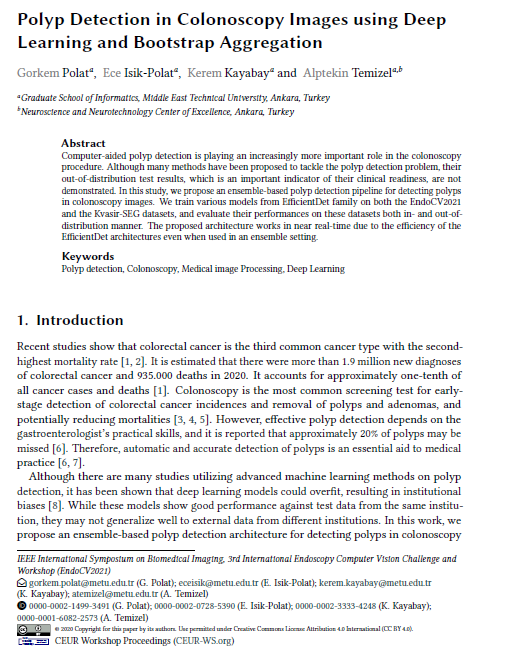 Polyp Detection in Colonoscopy Images using Deep Learning and Bootstrap Aggregation
G. Polat, E. Işık Polat, K. Kayabay, A. Temizel
Endoscopy Detection and Segmentation Workshop (EndoCV2021), IEEE Int. Symp. Biomedical Imaging (ISBI), April 2021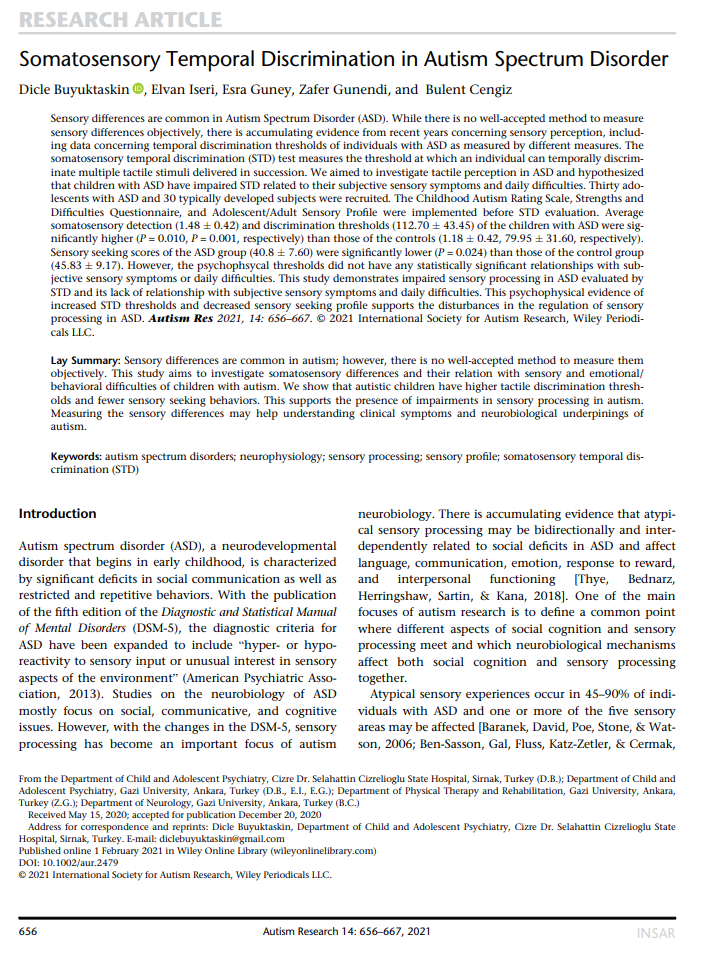 Somatosensory Temporal Discrimination in Autism Spectrum Disorder
D. Buyuktaskin, E. Iseri, E. Guney, Z. Gunendi, B. Cengiz
Autism Research, 2021.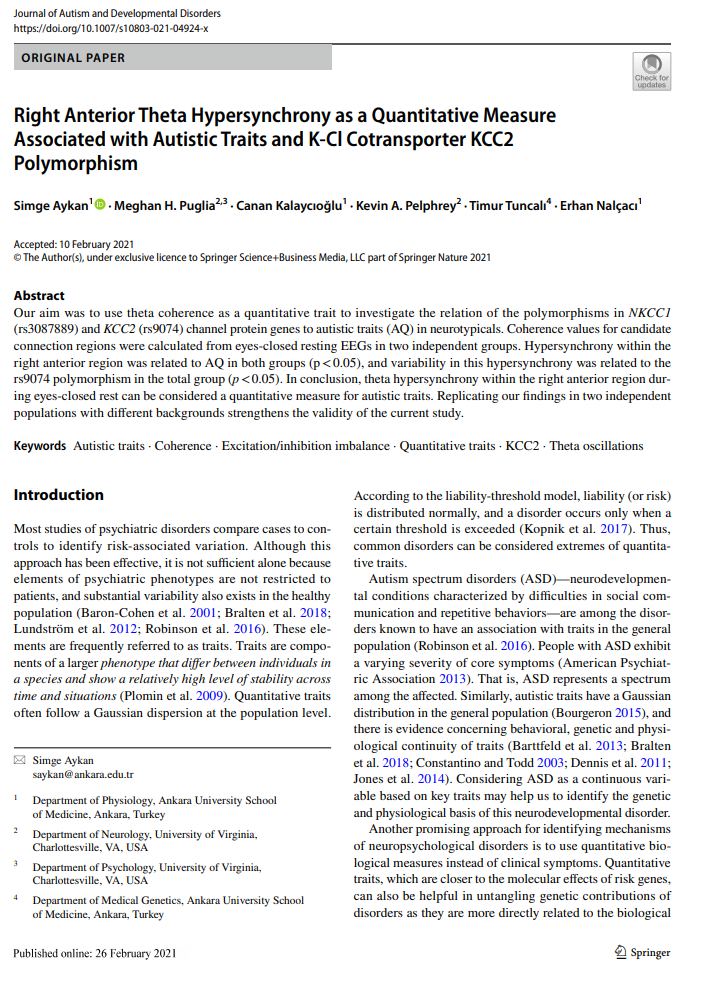 Right Anterior Theta Hypersynchrony as a Quantitative Measure Associated with Autistic Traits and K-Cl Cotransporter KCC2 Polymorphism
S. Aykan, M.H. Puglia, C. Kalaycıoğlu, K.A. Pelphrey, T. Tuncalı, E. Nalçacı ,
J Autism Dev Disord, doi: 10.1007/s10803-021-04924-x, PMID: 33635423, Feb. 2021.
2020
---
B Duman, O Herdı, RS İlhan, B Çolak, COVID-19 Pandemic Associated Misinterpretation of Somatic Sensations: A Model for Mind-Body Interaction. Noro Psikiyatr Ars. 2020 Aug 19;57(3):169-170. doi: 10.29399/npa.27379. PMID: 32952417; PMCID: PMC7481982.
S Aykan, E Gürses, S Tokgöz-Yılmaz, C Kalaycıoğlu, Auditory Processing Differences Correlate With Autistic Traits in Males, Front Hum Neurosci. 2020 Oct 7;14:584704. doi: 10.3389/fnhum.2020.584704. eCollection 2020. PMID: 33192419 Free PMC article.Neuronal network dysfunction in a model for Kleefstra syndrome mediated by enhanced NMDAR signaling.
Frega M, Linda K, Keller JM, Gümüş-Akay G, Mossink B, van Rhijn JR, Negwer M, Klein Gunnewiek T, Foreman K, Kompier N, Schoenmaker C, van den Akker W, van der Werf I, Oudakker A, Zhou H, Kleefstra T, Schubert D, van Bokhoven H, Nadif Kasri N. Nat Commun. 2019 Oct 30;10(1):4928. doi: 10.1038/s41467-019-12947-3. PMID: 31666522 Free PMC article.
Devrimci-Ozguven H, Hosgoren Alıcı Y, Demirbugen Oz M, Suzen HS, Kale HE, Baskak B. The role of COMT polymorphism in modulation of prefrontal activity during verbal fluency in bipolar disorder. Neurosci Lett. 2020 Nov 1;738:135310. doi: 10.1016/j.neulet.2020.135310. Epub 2020 Aug 18. PMID: 32822765.
Çolak B, Eken A, Kuşman A, Sayar Akaslan D, Kızılpınar SÇ, Çakmak IB, Bal NB, Münir K, Öner Ö, Baskak B. The relationship of cortical activity induced by pain stimulation with clinical and cognitive features of somatic symptom disorder: A controlled functional near infrared spectroscopy study. J Psychosom Res. 2021 Jan;140:110300. doi: 10.1016/j.jpsychores.2020.110300. Epub 2020 Nov 17. PMID: 33248397.
Sayar-Akaslan D, Baskak B, Kir Y, Kusman A, Yalcinkaya B, Çakmak IB, Munir K. Cortical activity measured by functional near infrared spectroscopy during a theory of mind task in subjects with schizophrenia, bipolar disorder and healthy controls. J Affect Disord. 2021 Mar 1;282:329-339. doi: 10.1016/j.jad.2020.12.094. Epub 2020 Dec 29. PMID: 33421860.
Kir Y, Sayar-Akaslan D, Agtas-Ertan E, Kusman A, Baskak N, Baran Z, Munir K, Baskak B. Cortical activity during social acceptance and rejection task in social anxiety disorder: A controlled functional near infrared spectroscopy study. Prog Neuropsychopharmacol Biol Psychiatry. 2021 Jan 10;104:110012. doi: 10.1016/j.pnpbp.2020.110012. Epub 2020 Jun 14. PMID: 32553940.
Karadaş Ö, Öztürk B, Sonkaya AR, Taşdelen B, Özge A, Bolay H. Latent class cluster analysis identified hidden headache phenotypes in COVID-19: impact of pulmonary infiltration and IL-6. Neurol Sci. 2021 Feb 9:1–9. doi: 10.1007/s10072-020-04978-2. Epub ahead of print. PMID: 33559789; PMCID: PMC7870778.
Kır Y, Baskak B, Kuşman A, Sayar-Akaslan D, Özdemir F, Sedes-Baskak N, Süzen HS, Baran Z. The relationship between plasma levels of clozapine and N-desmethyclozapine as well as M1 receptor polymorphism with cognitive functioning and associated cortical activity in schizophrenia. Psychiatry Res Neuroimaging. 2020 Sep 30;303:111128. doi: 10.1016/j.pscychresns.2020.111128.
Gündüz H, Baran Z, Kır Y, Sedes Baskak N, Baskak B. Investigation of the cortical activity during episodic future thinking in schizophrenia: A functional near-infrared spectroscopy study. Behav Neurosci. 2020 Aug;134(4):344-357. doi: 10.1037/bne0000377.
Bilişsel Nörobilim ve Nörogörüntüleme
Klinik Nörofizyoloji ve Beyin Uyarımı
Karşılaştırmalı ve Çevrimsel Nörobilim
Nörorobotik, Nöromorfik ve Nöral Mühendislik
Yapay Zeka ve Hesaplamalı Nörobilim
Sosyal Bilişsel ve Eğitsel Nörobilim